Engaging , emotive and thought-provoking stories that focus on the themes of responsible pet care, farm animals and animal welfare.
Written in conjunction with the New Zealand SPCA
Each book also includes hints about caring for the animal featured in the story
Ideal for guided or take-home reading
PURPLE
Sam and Charlie Love Pudding
When the abandoned cat who lives under the sports shed at their school gets into trouble, Sam and Charlie have to act.
PURPLE
Pumpkin Pie and Pavlova
Mrs Melling likes pumpkin pie and pavlova much more than she likes Mr Watkins or his hens. Will Mr Watkins find a way to change that?
GOLD
The Smooth Movers' Club
A boy and his father want their move to the city to go smoothly for their cat Noah. It does, until Muscles, the fearsome neighbourhood tomcat, turns up.
GOLD
The Mouse at the Mall
A girl and her mother go to the mall to buy shoes. They leave with a shoebox with a toilet roll and a mouse inside. What will happen next?
GOLD
The Problem with Sione's Spaghetti
Sione's pet rabbit has a problem. Sione's solution involves a pack of raging rhinos, but will it work?
DARK GREEN
Storm Gets A New family
Storm used to spend his days chained to kennel till his life was changed by a bolt of lightning and a girl with friendly eyes.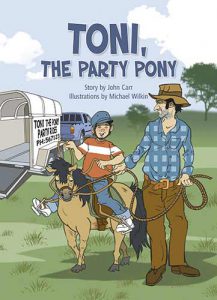 LIGHT BLUE
TONI, The Party Pony
Toni is hired for children's rides but her owner is not taking good care of her. When Sammy and her dad notice this, they get her to the SPCA.
PURPLE
Mrs Wigglesworth Gets the Milk
When Mrs Wigglesworth goes to town to get milk, she comes home with a cow. When she goes into town for some bark for the roses, she comes home with a dog.
PURPLE
Wake Up, Drongo!
Pirate, the parakeet, wanted to be outside in the trees with the other birds. But when he does get out of his cage, the world outside isn't as much fun as he thought.
GOLD
Guzzler Does the Job
Guzzler is a piglet who comes to live with Penny's family. Because pigs are clever, Guzzler fits in immediately. But will Dad let him stay?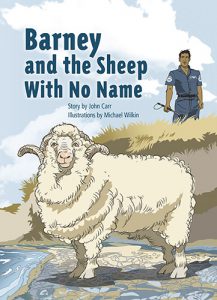 GOLD
Barney and the Sheep With No Name
Barney, the SPCA man, must rescue a sheep that has escaped from a farm. The sheep doesn't want to be rescued so Barney must use all his wits and strength to succeed.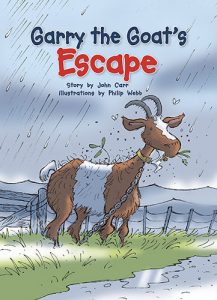 SILVER
Garry the Goat's Escape
Garry escapes to a garden where he does lots of exciting goaty things. Unfortunately, he finds himself hanging from a clothesline. Will anyone rescue him?